First off, I just want to apologize because while I'm actually not a terrible photographer, food photography is not my strong suit. I have a DLSR and could probably learn more and get better at it, part of me is like, dude, real life doesn't happen on a set, so let's just get 'er done or it will never happen. Maybe someday, but that day is not today. haha.
When I started my first Keto journey, the big bread alternative was 90 second bread and cloud bread. Both, in my opinion, were not great. So, when a couple friends of mine that do Keto told me that Chaffles were a game changer, I was skeptical. I'm about a month in and made my first Chaffle this week for a sandwich. Ya'll. If you haven't made Chaffles yet, you need to right NOW.
I bought the Dash mini waffle maker from Target, but you can also buy them on Amazon. I'm seriously contemplating buying a second one so I can make two at a time.
I used the recipe and tips from That Low Carb Life. I added the 1 tsp of coconut flour and 1/4 tsp of baking soda to give it a more bread-like texture. Since I made mine for a sandwich, I sprinkled onion powder, paprika and chives to give it a little extra flavor, but you can totally make it plain or add vanilla, sweetener or cinnamon to make it sweet… I just haven't tried sweet ones yet.
For my sandwich, I heated up Boar's Head Sausalito Turkey with some white cheddar on top, spread some mayo on each piece of the Chaffle, sliced tomato, lettuce, and BAM. Delicious.
I've made 3 Chaffles now, and decided to make it a little easier, I portioned out the coconut flour and baking soda in these little plastic cups I bought from the dollar store. I almost decided to put in the extra spices I added, but ended up leaving them out for now because I may want to try some sweet varieties soon. You bet I will be experimenting with this!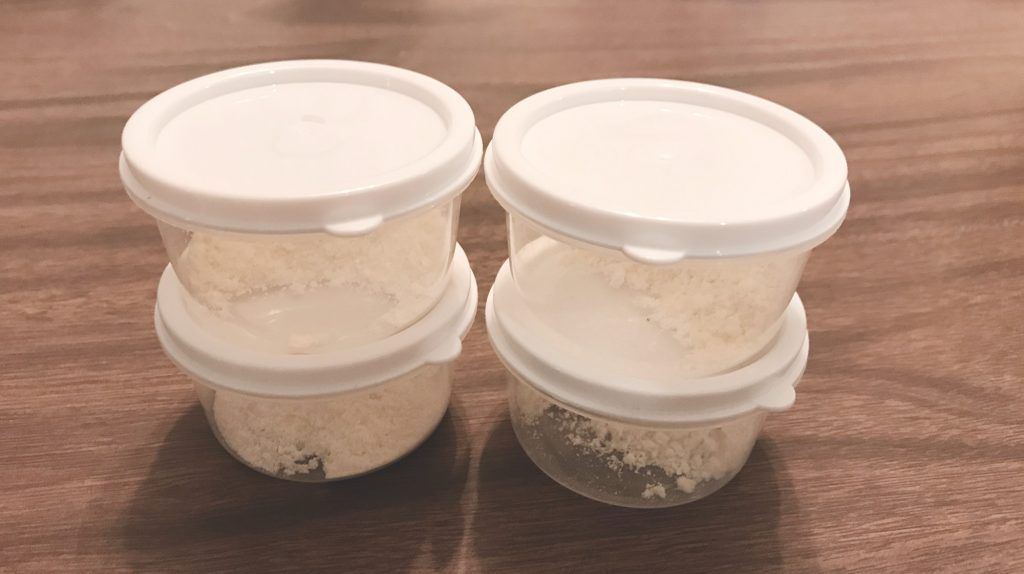 I really wish restaurants would start including this as an option instead of bread or buns for things like sandwiches or burgers. I may have to smuggle them into restaurants from now on, haha. Tonight, I made a Chaffle for my Five Guys burger and my husband joked that I should start my own Chaffle restaurant. Hmmmm…maybe I should. Maybe, I should. Or what about a food truck??
0