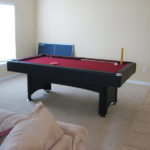 Last week we purchased a pool table on clearance, which has been my husband's dream ever since we started talking about moving into a house. We weren't planning on purchasing one so soon, though. It just so happened that he went to the Sports Authority to figure out which table he wanted to save up for, and one of the tables was on sale for $240 (original price: over $400), so we decided to get it. We had some family over this weekend, and the pool/ping pong table was a hit, so we are definitely happy with the purchase. The only downside is that the corner pockets droop a bit, so he's using these tension curtain rods to hoist up the pockets. Eventually though, we'll probably just build a new base. It is a "budget" pool table, so you can only expect so much from them.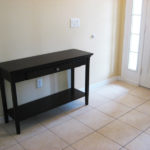 Today I came home and immediately noticed a console table in our foyee that was not there when I left for work this morning. John and I saw it at Target this weekend and thought it would be nice for the house, but didn't buy it as we do not have unlimited funds and there are a lot of things we want to buy for the house that we need to stretch out over time. Naturally, I was very surprised. Turns out, my Mother-in-law bought it as a gift for my husband and my upcoming anniversary this month, which I thought was very sweet of her.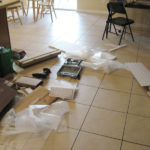 John is becoming quite a pro at building all of this furniture from Target and Ikea. And to think, he told me yesterday that he was just going to relax today and not do anything for the house… and I walked into our office with this assembly aftermath!
I want to take photos of the new place badly, but we're still so far away from being "presentable." We haven't really put out any decorations or hung any art yet – it's all very vanilla. My hope is that our bedroom/bathroom is next on "The List" … I have already started planning out the colors, headboard, curtains, furniture, etc and would love to start putting it together. I've never really designed/decorated a bedroom before, so I'm very excited about it. Heck, our entire bed is a hand-me down including our sheets. The only thing we've bought was a new dresser and some pillows. It is time!
0