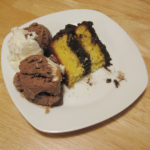 I've perfected my chocolate frosting recipe, which is actually better tasting the  day after. When I taste-test the frosting as I'm making it, it just tastes like powdered sugar and shortening. However, the next day there is no mistaking the rich chocolate texture, taste and color.
It's actually quite simple to make. I start off with my favorite basic buttercream icing recipe featured on this post. For this cake, I doubled the icing recipe to ensure I had plenty of icing since the last time I made it with just 1 cup of shortening it was barely enough for my 2 9″ cake rounds. However, if you're making a cake with only one layer the 1 cup recipe should be sufficient.
For the chocolate, I simply added about 6 – 8 tablespoons of cocoa powder. To be honest, I started to lose count after 4 because I'd mix it in furiously, taste it, decide it wasn't chocolately enough and add more. I also melted about 1 1/2 cups of milk chocolate chips. Even with all of that chocolate, I still wasn't sure if it was enough. I decided that if it wasn't enough then I might as well give up because I wasn't sure how much more chocolate I was willing to put in.
If you find yourself in the same predicament, just be sure to make it well ahead of time so the flavors can blend together. I promise the chocolate will eventually come out in full bloom and will taste divine! I will never buy frosting from a jar again, and I hope you won't either. Frosting is incredibly easy to make and much tastier than the alternative.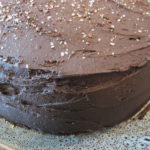 On a side note, I recently aqcuired The Spice & Tea Exchange "Baker's Secret" Blend and used it in place of sprinkles on this particular cake for my Sister-in-Law's birthday. You can see the close-up of it on the image to the right. It gives it a very nice presentation with a hint of cocoa nibs, vanilla sugar, maple syrup granules, chunk cinnamon, cut-sifted ginger and nutmeg.
0