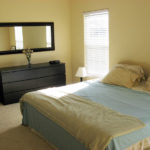 Our second year anniversary is coming up on the 22nd of this month. For those of you who do not know, this year is cotton, so John and I are planning to get some new bed linens for our room. Which is great, because we really need it. Right now we are using some old striped hand-me-downs and microfiber blankets/throws to sleep with, which is definitely not very stylish. However, that also presents a problem, because I'm having a difficult time deciding on what to do for the room.
Here is the color scheme I am planning for the room, the tan color being the walls. We have white doors and white base molding. Our furniture is the dark brown (almost black) espresso color.


Right now we have a long Malm dresser from Ikea, a Better Homes and Garden's mirror over that, a TV stand and TV at the foot of our bed, and our bed. We are planning on building a headboard, but not yet. I'd also like to get 2 Rast chests as night stands, stain it espresso, paint the drawers white, fill in the holes for the knobs and put new hardware in the middle. I'd also like to get a white vanity & stool/chair with some shape to it to contrast all of the clean modern lines.
For comforters, I'm thinking either a plum purple, or a lime/avocado green. Here are two sets that I've found that I absolutely love. I love how the purple one is tufted and simple, but based on the reviews, in low-light it looks burgundy, the stitching is apt to come undone, and the material is not very comfortable, whereas the green one has all great reviews, is comfortable, washes well, etc.
I'm thinking that whichever I go with, I can make or purchase some throw pillows in the opposite color. I think the colors work really well together. Based purely on reviews, I'm definitely leaning towards the green one, but I really do love the tufted look. For sheets on both, I was planning on just getting solid white or the white satin/matte stripes, although the white and black patterned sheets pictured with the green set are interesting.
0