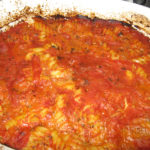 I am a big fan of Macaroni & Cheese. The oozy, cheesy goodness… what's not to love? Well, apparently some people don't care for the oozy, cheesy goodness and would probably alter the statement to the tune of "what's not to hate?" Yep, that's right. John doesn't care for Mac & Cheese the way most of you think of it. He likes a version his mother makes often during the holidays that is light on cheddar cheese, but heavy on tomato. Now, considering myself quite a connoisseur of Mac & Cheese, I liked his mom's version okay, but to be perfectly honest with you, it was a little bland and not nearly enough cheese for my taste.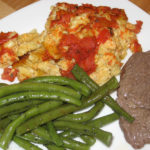 I tried to make it a few times myself, although close to the original but with more cheese, it was still missing something. The recipe called for macaroni noodles, shredded cheddar cheese and a can of chopped tomatoes. I played with less tomato, more cheese, still not good enough. After careful deliberation, I decided to start from scratch using my own ingredients, but keeping the tomato theme. Of course, if the idea of putting tomatoes in your mac and cheese doesn't sound too good to you, just omit the addition and it should still be some pretty darn good mac & cheese. I call it "Grown-Up Mac & Cheese" because I think it's a little more sophisticated then Easy Mac from a box, and there's naught a processed cheese in sight.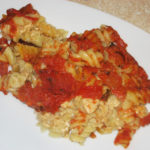 I ought to warn you all that I am a "pinch of this, pinch of that" cook so my measurements are approximate. I encourage anyone attempting to follow this recipe to eyeball it and go with your gut (no pun intended) for the best results. But for those of you who find that prospect nerve wracking, by all means use the measurements I have provided as a starting point, and keep your mind and heart open for the little voice in your head that says, "More garlic! Less salt! Add pepper!" or whatever it might be telling you.
Without further ado, I give you the recipe!
Ingredients
1/2 box of rotini pasta
butter
2 shallots (diced)
1/2 small onion (diced)
1 1/2 teaspoons garlic (minced)
1/2 cup milk
1/2 cup cream
3 tablespoons of white wine
1tsp Worcestershire sauce
1 cup cheddar cheese (shredded)
1/2 cup mozzarella cheese (shredded)
2 slices of swiss cheese (sliced)
1/3 cup ricotta cheese (can be subbed for cottage or cream cheese)
dash of paprika
dash of cayenne pepper
1/3 jar of pasta sauce (or more, to taste)
1 medium tomato, chopped
Cooking spray
Directions
Preheat oven to 375 degrees. Prepare 1/2 box of pasta, drain and set aside.
Melt 2 tablespoons of butter in a 2 quart sauce pan on medium/low heat. Add diced shallots, onions, and garlic.
After the shallots, onions and garlic have have simmered for approximately 5 minutes, stir in white wine and Worcestershire sauce.
Slowly add the milk, cream and 4 cheeses, stirring frequently until melted.
Coat your casserole dish with cooking spray, and pour your noodles and cheese into the dish. Mix thoroughly.
In a separate bowl, combine pasta sauce and the chopped tomato. Spoon mixture onto the top of the cheese and noodles.
Cover with foil and bake for 45 minutes.
Remove foil and bake for an additional 10 minutes.
Remove from the oven and allow to cool for 15 minutes before serving.
0