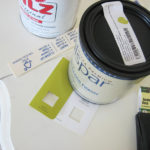 So, I have been semi-casually looking for a Vanity for my room. I happened upon this beauty on craigslist and decided to take it home. However, it was in a desperate need of paint. I was originally going to repaint it white, but I thought, you know, my room is already boring enough with a chocolate bedspread, expresso furniture, black lamp, beige walls, etc, why not go for some COLOR? And so, I did. I choose Valspar's City Chartreuse based off a drawing I have printed poster-size and hung up in our bedroom (although I am thinking about replace that with a new drawing – same colors, but new art). So far I have sanded it, primed it, and got the first 2 coats of paint on.
Before
In a desperate need of paint
I found a brief set of instructions on Young House Love about painting furniture, and set about purchasing the supplies at Lowes. $50 poorer, I walked out of the store with bags in tow, ready to embark on a new journey. This is something I always wanted to try, but haven't been able to accomplish. My master plan was to find an older vanity with some curve to it. I know this particular pieces is not an antique; if I had to guess, I would say it is from the 80s as it looks a lot like some bedroom furniture I used to have as a young girl. No matter, objective complete; it becomes modern enough to fit in my "Ikea bedroom" with a couple coats of bold paint.
Progress
Two coats down, two more to go
I am applying more thin coats versus less thicker coats to provide a smooth surface without bubbling. I was going to sand with fine paper after every coat, but I forgot and started to paint the second coat without it. However, I think I will before the next coat, because I do have some lumps/raised streaks/brush hairs I'd like to try and sand off to create a more even surface. You could definitely tell the difference between the first and second coats. However, it's still not quite there.
Finishing
The last steps
I think it will need at least one more coat if not two. If I am crazy obsessive perfectionist then maybe five, but by then I will probably be ready to put the poly gloss varnish on it and call it a wrap. I am pretty anxious to get it in my bedroom and start using it. Aside from paint, I need to get some drawer liners, possibly some stack-able drawer organizers for my cosmetics (I was also looking into some super cool vintage train cases on eBay… WANT!), a oval wall mirror, and of course a chair/stool.
I'd like one that has an upholstered seat so I can paint the chair and then cover the cushion with some nice fabric. I'm not having much luck on Craigslist, so I might just have to head out to some thrift stores/consignment shops/etc to see what I can find. Even at Ikea, a new chair is going to run me about $50-$60 bones, which is a bit more than I wanted to spend. Looking more for a $25-$30 steal that just needs a little TLC.
I'm hoping to make more progress on it this weekend — maybe the third coat tonight, third coat tomorrow, and on Monday-Tuesday put the poly gloss varnish on. Which means, maybe I'll have this sucker in my bedroom by Wednesday!
0