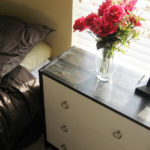 Ok, so I can't take all of the credit for this one. I saw this post, and immediately loved the side tables. I knew I had to make them mine! We bought two of these, and the second one is still sitting in the garage waiting for me to finish it. I will get to it when I get back from visiting my sister, if not this weekend, I SWEAR! I also need to finish up some small curtains for the windows beside the front door.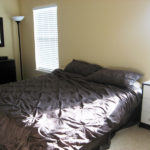 I know what you're thinking. RAKEL! Why on earth is your bedroom so brown and boring? I thought you were going to get a green or purple bed spread. Yeah. About that. I couldn't make up my mind, plus I was a little discouraged by some of the reviews of the purple bedspread. Eventually, though, I'm going to make some colorful throw pillows, and do more with art/flowers. I'd also like to get a vintage vanity and paint it white, or maybe if I can actually decide on a color, paint it something vibrant.
I was going to go for a blue bedspread, but John decided that he wasn't fond of the shade. I almost went with white, but then decided against that as well. On second thought, maybe white would have been a better choice.
At some point, we're also going to build a headboard. I have a couple different ideas of something I'd like to try, but I might go boring and simple instead of getting knee deep into a project that is too complex for my abilities. For example, I'd REALLY like to make a tuffed headboard that is very grand and curvy. However, I don't have a clue about upholstering things, so it would be quite an undertaking. I might try and do some upholstered panels first before I attempt a project of that magnitude.
Over & Out!
0