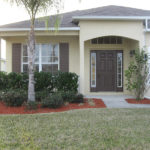 We moved from a 1060sqft 2 bedroom, 2 bathroom apartment to a 1750sqft 3 bedroom 2 bath home this week. As you could imagine, we are completely ecstatic. For one, there's a nice roomy kitchen with adequate space for all of the culinary objects I could possibly want to acquire including, of course, the ones I already have.

We intend to stay at the new place until we purchase our first home, which may not be for a few years. I will be chronicling some of the projects we work on in this blog, as there can be some challenges and restrictions to customizing a home that you are renting.
I'll share some photos of what we have now (which we're still in progress of setting up), give some direction of where it's going, and show some progress shots as we go. While we are very pleased that there are no more boring white walls, we don't have the liberty of painting them as we desire without getting approval from the owner, so are going to find other ways to bring color into the room without making a permanent fixture. Hopefully some of our ideas and implementations can inspire other renters out there to have fun with their space, even if it's only temporary!
0