First things first… Merry Christmas Eve! 🙂 I hope you are all enjoying time with your loved ones. I'll be going over to my sister-in-law's house tonight and tomorrow for festivities, and I'm looking forward to it!
I haven't posted a recipe in awhile, I know I have been neglecting my poor little blog. And I know that I often don't include a photo with my recipes, because I don't always think to take a picture until it's halfway eaten AND, if I do take a photo before I happen to eat it, it's just my luck that it's dark out so the lighting is terrible AND the photo ends up blurry because I am taking it on my phone and not taking too great of care. I promise I am a somewhat better (OK, OK, I'm still an amature photographer) at taking photos than this… but I am usually too lazy to take out my really old 6MP DSLR camera. My iPhone CAN take good photos, but sadly, these are lacking. At least I tried to put them on a pretty plate for you, so give me some props for that at least!
Anyway, on to the food, shall we?
If you're like me, you have a massive sweet tooth (which is why you try and avoid having a lot of sweets in your house). Anything is better if it's a little sweet, right? That's why I love onions and ham and bacon a lot, because they go so well with a little sugar or fruit, amirite? So it goes without saying that I LOVE Monte Cristo sandwiches. What's not to like? Ham, cheese, dipped in a sweet batter, fried with powdered sugar on top and dipped in JAM??? Sign me up!!! The only problem is that deep frying is a bit too heavy for me. Fried foods and I don't mix very well. I also like things to be very easy to make, otherwise I tend to NOT make them unless I am feeling particularly foodie that day.
Enter, stuffed crescent rolls.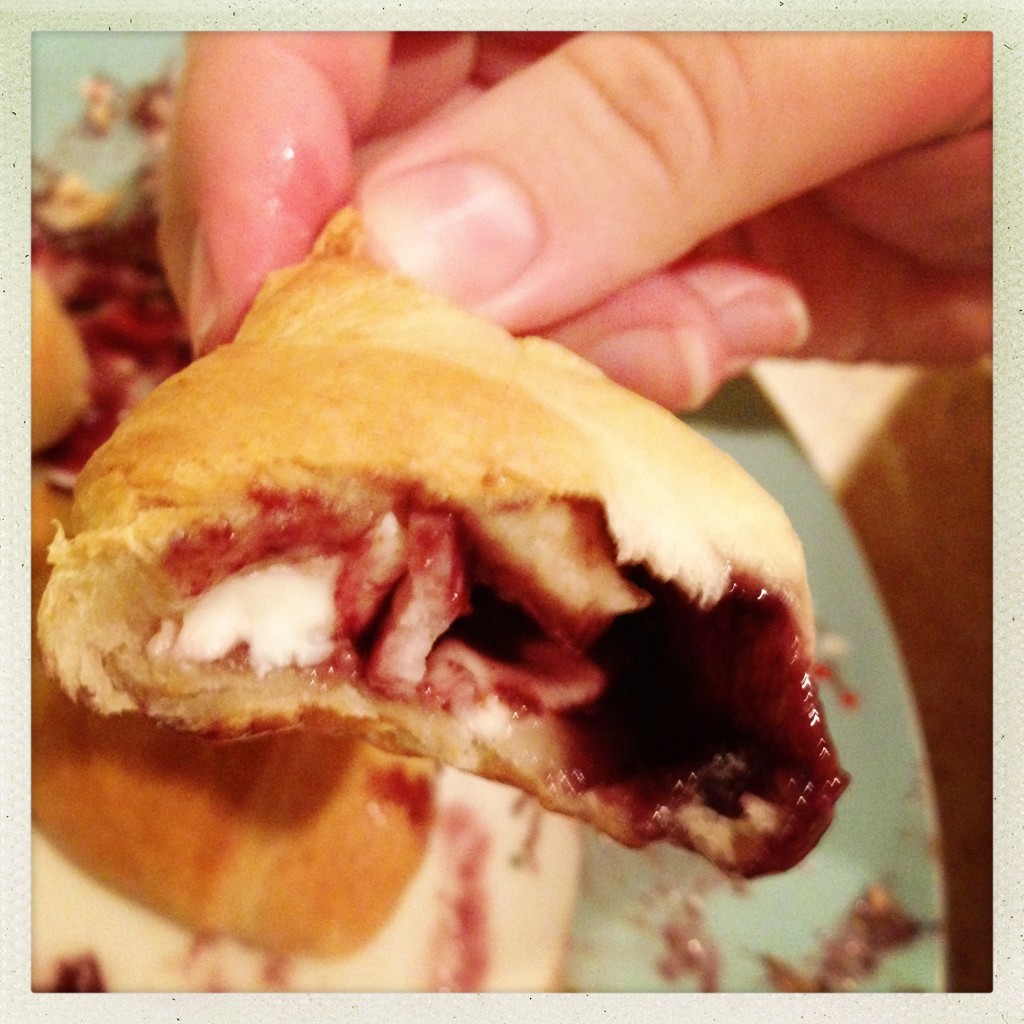 I'm sure you could make these fancier by using different cheeses, homemade dough and whatnot. Despite what I just said about making things easy, I am also a walking contradiction because I also like to make fancy things. So I would definitely be the person mixing several different cheeses together, adding spices or maybe some sweet mustard to the mix, and then pitting fresh cherries and sauteing them with sugar a bit instead of jam… but seriously. The easy route is very basic, and you can always get fancier if you're up to it.
Ingredients
Seriously, this is it. And I usually have all of this in the house at any given time which means… I can have them whenever I want!!
1 can of crescent rolls
Plain cream cheese
Ham
Jam (I used blackberry because it was the first jar of jam I found in the refrigerator)
Directions
Preheat oven to 350 degrees.
Spread cream cheese on ham slice, and spoon a little jam on top of that.
Roll up with a crescent roll.
Make sure the ends are sealed up as much as possible.
Bake for 15-20 minutes or until the tops a slightly golden brown.
Contain yourself for a few minutes until they have cooled down enough to eat.
I made these as an appetizer, but then proceeded to spoil my dinner by eating about 3 of them in 3 minutes. I have a church potluck next Sunday, and I think I'm going to make a batch or two of these. I love to bring something that's no-fuss — that, and there is usually about a 1:1 ratio for sweets and savory items. The people at my church do NOT mess around with their desserts. I will try to make kaiser rolls next time I bake.
0