Last weekend John and I went to Savannah, GA to celebrate my 25th birthday, and this weekend we did a lot of "housework" … yet our bedroom is still a downright mess. The biggest accomplishment was in our office… which is still nowhere near "done." We have done what we can just re-using what we already have with as little expenditure as possible, while also trying to make something functional and nice. So, don't be too disappointed because there isn't an after photo yet.
This photo was taken once we got underway with actually putting together our ideas. There is no before photo before this that I know of, but let me just tell you that it was not all that much different than this, just a bit neater without a bunch of stuff all over the floor and desks.
Our furniture hacking
Before, the white set of drawers was in the center of the desk, and the bookshelf sat to the right with paper & the printer. Before that, it was my nightstand. Anyway, John had the idea of putting it in the center of the desk instead of the drawers, and then we could put the computers there so they could be together and hopefully minimize the visible cords, which were a huge eyesore. When we originally planned this desk we weren't really thinking about the mass of ugly cords that we would see hanging down behind it.
However, there was one issue. The bookcase had two shelves and a back, which wouldn't fit our towers. So I suggested that we remove the one shelf. However, there is a nice face around the outside of it, which also went straight across where the shelf was, so we had to saw that off. One of our bigger issues was getting the height of everything to match up. We wanted the desk to be flush with the white drawers so it would be one long surface, however despite our best efforts we are still about a quarter inch too tall. We can solve that problem by adding some feet to the bottom of the drawers hopefully. Another issue we had was getting the center console to not move around — that was another problem we had with our original desk configuration. We removed a sliding keyboard track from an old desk we had, and used that to fasten to the bottom of the desk. This way, John could slide the small "feet" we put on the "top" of the console. We actually turned the bookcase upside down so the metal feet were pointing up. This is where we intended to put our modem, router, etc.
Now, up to this point it was mostly John's idea and input, although I helped him problem solve, and was his "fetch this" girl… and taking photos for the blog! However, I did have one good idea that we haven't yet implemented. I thought that we could go one step further with covering the eye-sore with the computers by making a curtain and hanging it over the bookcase. This way, we can also add a pop of color, and get easy access to the computers to put in a DVD, or what have you. However, we're going to hold off on doing that for a little bit until we can get the large 8×10 area rug and then match some fabric to the rug. The rug we like is brown and green. Green is a bit of a theme in our house… we have lots and lots of green everywhere.
Vanity stool progress
Also, I finally found a stool for my vanity at Target on clearance for $8. It's been sitting around in the box for a couple weeks now, but I finally put it together, upholstered the seat with the fabric I picked out  for the vanity drawers, and put 2 coats of paint on it. Here is my progress thus far. The finished product should be done sometime this week hopefully.
Our old new CHARTRUSE bookshelf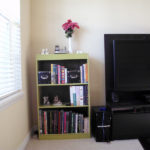 Last but not least, our new TV stand (a few months old now though) and an old bookcase we painted. We removed the old junky backing and replaced it with a piece of thin, stained wood. The contrasting colors has a nice effect, and it really makes the living room "pop." The amount of brown in the room was really starting to bother me. It's slowly coming together… I'd like to get a blanket throw for the chair and some new throw pillows.
And this concludes the latest and greatest from my household to yours 🙂
0