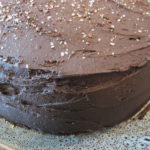 Growing up, my family made a lot of boxed cakes for birthdays instead of getting something from the bakery. You really can't beat the price. However, it is painfully clear that a box cake is just not as good. This is what I do to "fix" a box cake. Please trust me on the ingredients, it makes for a very moist and delicious cake, I promise!
The nice thing about this is that you don't have to measure all of the flour, sugar, etc like you would if you were making your own batter. I still prefer a completely homemade cake, but sometimes it's just easier to have a few boxed cakes on hand. The presentation of this cake is very lovely if you use 2 round cake pans vs the standard 9×13.
Ingredients
1 box cake in a flavor of your choosing

1/2 cup of light mayonnaise or light sour cream
1/2 cup of applesauce
Optional: use milk instead of water as directed on the box
Optional: depending on the cake flavor, I'll sometimes add a teaspoon of vanilla
Eggs (as directed on the box)
Directions
Follow the directions on the box. You are just substituting the oil for mayo/sour cream and applesauce, and optionally using milk instead of water or adding vanilla. This will give the cake a fluffier, moist texture and just boost the flavor all around. It's as simple as that!
0