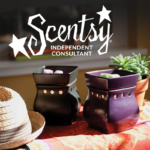 I finally took the plunge to becoming an Independent Scentsy Consultant yesterday. I am still waiting for my starter kit to come in, but my website is up and running, and ready to take orders. I can also create online parties now, and if you're local in the Orlando area, I can start lining up home parties or basket parties for the upcoming months. Scentsy is a GREAT gift idea, so keep me in mind this Holiday Season. Just visit my website at rakel.scentsy.us to get started!
Before I became a consultant I did a YouTube review & haul of Scentsy including a rundown on all of the scents I purchased. If you'd like to know more about what I REALLY think about Scentsy, please check it out, the video player is below!
I only stand behind products that I really love, so buy with confidence! 🙂
If you're intersted in Joining my Scentsy Team, please contact me if you have any questions or you can sign up right through my website. It's only $99 for the starter kit!
Related Posts: