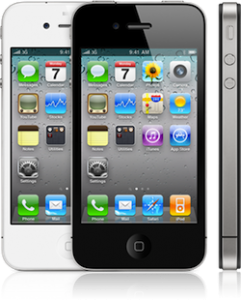 Some people with iPhones really don't even scratch the surface of what their phone has to offer. They have less than a dozen Apps outside of the default ones on their homescreen. I, on the other hand, am what you call a "power-user." In this article I will cover my favorite Apps, and what I use them for. This post is mostly for my mom, who will be getting an iPhone 4S from Sprint this December. Enjoy!
Communication, Social Media & Internet
Infinite SMS: Personally, I pay-per-text because I don't use enough texts each month to warrant a monthly plan. To supplement, I have a Google Voice phone number that I've set up through this handy App. If someone starts texting a long conversation I'll message them back through Infinite SMS and voila! No SMS charges, it all goes through your data plan. If you plan on using the Google Voice number to also supplement your minutes or to use for things such as Craigslist, then go for the official Google Voice App, but if you're just using the texting like me, this one works great.
Skype: The best thing about Skype is the video calling right on your iPhone. It's like FaceTime anywhere with any webcam.
Facebook: This is probably the only App I use on a daily basis, but then again I am a Facebook junkie.
IMO Instant Messenger: Log into all of your instant message accounts at once with one App. I had considered downloading all of the different IM Apps, but who wants to have 6 different IM Apps on their phone? IMO is free, and does the job.
Twitter: Tweet much? Then Twitter is a must. I am personally not huge on Twitter…but well, it's there if I need it.
Productivity & Utilities
Dropbox: Access your files on the go with the Dropbox App.
Genius Scan: It's a scanner in your pocket! Genius Scan is great if you want to reduce the paper clutter in your life. Snap a picture of a document, and Genius Scan will add contrast, and straighten out the image for you. You can create a "document" and add multiple images to a document to stay organized. It's one of those Apps you might not use every day, but when you need it, it's there.
Quick Password Manager: OK, admit it. You don't have as great of a memory as you once had. Never fear, keep all of your passwords (or other sensitive information — credit cards, socials, etc) in one handy spot. You can import/export from a CSV in dropbox, and keep it all safe behind a password/pin of your choosing.
GroceryPal: This App allows you to sync shopping lists with other iPhone users. So if you are an iPhone family… tell your husband to pick up some milk, bread and eggs on the way home the high-tech way 🙂
Scan: The best QR scanner I've found (and I've tried a couple).
TapTyping: If you're not used to typing on a touch screen, get this App. It will  show you some neat tips along the way to improve your iPhone typing. I can get about 33wpm…not too shabby.
BatteryDoctor: this App will tell you how much time you have left to watch video, make calls, etc. If you use it on a regular basis then it can also keep you informed on the health of your battery.
Mint: First of all, if you don't use mint.com, you should. It's a great way to keep on top of your finances. Once you go through the intial (albiet tedious) process of setting up all of your bank, investment, loans and credit card accounts and set up a budget, you can easily keep tabs on everything on the go with this handy app. What's the balance in your checking account? How much have you spent this month on Groceries? Load up mint and find out. It's just that easy.
QuickTip: Leave the guesswork out of tipping. Enter your bill total, adjust the slider to what percent tip you want to leave, and QuickTip calculates how much the tip is and the total.
Shopping
Groupon: Everybody loves Groupon right? Well it's awesome for your phone, too. Buy and use groupons right from your phone. Easy!
LivingSocial: Same thing as Groupon.
JoAnn Fabrics: Yes, I get coupons from JoAnn's delivered to my door every month, but I rarely keep them on me. When I actually need to get something at the store, I inevitability forget the coupon and miss out. Not anymore! JoAnn's App will let you load up a coupon right on your phone. I am never without a coupon now!
RedLaser: Are you really getting the best deal? Scan the barcode of any product in any store, and it will tell you how much it costs at other stores in the area, and online. Find out if you are really getting the best deal and shop smart. You can also look up reviews and make sure you're making the right choice. Never shop blind again!
Photography & Video
I have a LOT of photography and video Apps… but these are the creme-de-la-creme, cream of the crop.
Hipstamatic: Words cannot express how much I love this App. It is my "go-to" camera for everything, and I own pretty much all of the HipstaPak's. Let's just say that I RARELY use the built in camera App. Hipstamatic is often imitated, but never duplicated.
Instagram: I prefer instagram for sharing pictures, but you can also use it as a camera. They have different effects you can apply to your image after you take it, whereas with Hipstamatic you have to make your lens/film/flash choices before you take the photo, and the original is not saved.
SwankoLab: If you like Hipstamatic, but you want to be able to edit and tweak the photo to your hearts content, I recommend SwankoLab. You can apply different "developer" chemicals to your photo for a certain amount of time, save your combinations and post process to your hearts content. It's fun, but it's a bit more work than Hipstamatic. Sometimes having more options is just that… more options, more work. It's really well-done though, cool sound effects and graphics, the whole nine yards.
8mm: This is what Hipstamatic is for video. Shoot some awesome vinette, fuzzy lined, "8mm" videos right from your iPhone!
Diptic: This App allows you to artfully compose an arrangement of photos in different grids to create cool montages.
Lifestyle
Pinterest: Although I haven't really found a good way to share things on this App other than the built-in camera, it is good for browsing.
Occasions: If you're anything like me, you have a difficult time remembering everyone's special dates. Occasions will change all of that. Just make sure you put everyone's birthdays in your contacts (I believe it will also find them on Facebook), and ta-da! There's a list of everyone's birthdays, and reminders built in to let you know of upcoming birthdays.
MyNetDiary: Keep track of you weight, measurements and nutrition in this handy App. It syncs online, so if you're at the computer you can enter it in through their website.
AroundMe: Where's the closest Target? What Restaurants are around here? AroundMe will tell you. Need I say more?
Entertainment & Music
NetFlix: This has actually come in handy more than I thought it would. I never thought I would be much for watching a movie or anything at length on a tiny screen, but it's not bad and a good way to pass the time.
Pandora: Listen to music any time, any where.
Shazam: Never wonder who sings a song or what the song title is again.
Games
Words With Friends: This Scrabble knock-off is fun and addictive. Play with anyone who has an iOS device or on Facebook.
Bananagrams: A fun quick crossword puzzler where you have to use all of your tiles to make valid words.
Fruit Ninja: Slice flying fruit, but not bombs!
Monster Soup: Cute puzzle game — connect 3 or more similar colored monsters to clear them off the board. Let too many pass by and they become frozen. If the frozen monsters reach the bottom of the screen, game over.
Orba: Puzzle game where you have to connect 3 or more same colored orbs. Similar to bejeweled, except you don't rotate the orbs.
Tiny Wings: Simple game where you (a bird) try to cover the most distance before the sun goes down.
Rock Band: Classic game available for the iPhone! It comes with a lot of music plus more you can unlock if you play story mode, or you can buy more songs.
ScorePad+: Great for playing games "in the flesh" such as card games, etc…instead of using a piece of paper.
Related Posts: